Note: Clicking images on this page will open a larger image in a new tab.
Cameras and Lenses
Laurie:
Because I had expressed an interest in photography as a child, my parents gave me a Kodak Brownie Hawkeye box camera. I remember using this camera to take photos of historic Pennsylvania Railroad steam engines in the roundhouse at the PRR Northumberland yards in the 1950s and then having problems with photos of a diesel engine on the turntable immediately afterward.
Sometime after that I got my first 35mm camera: an Argus C3. For me, this was a wonderful camera with adjustable exposure and I used it with both negative and slide film for many years.
In High School, I was the photographer for the yearbook using a 4×5 speed graphic with an electronic flash. The Speed Graphic was made by Graflex Inc. of Rochester, NY. When I started college, there was a yearbook and newspaper photographer at the Men's Freshman Camp with a 4×5 speed graphic so I introduced myself and summarized my experience with that camera. Once school started I became a member of the newspaper and yearbook photography staff, which numbered about 4 or 5 people. Staff numbers varied as the school was a co-op school and some students were working while others were in school. I also frequently used a 2-1/4 x 2-1/4 Mamiya C3 Twin Lens Reflex.

During my college years, I bought a used 4×5 speed graphic for personal use and took many railroad photos in black and white plus a few in color transparencies.
After college I purchased a Honeywell Pentax Spotmatic 35mm camera, which was made for them by the Asahi Optical Co. Ltd. of Japan. This camera allowed the user to focus the lens at maximum aperture with a bright viewfinder image. After focusing, a switch on the side of the lens mount stopped the lens down and switched on the internal light meter, which was much easier to use than an external light meter. The internal stop-down light meter was revolutionary at that time.
In the 1990's, I moved up to a Nikon N6006 35mm camera with more features (autofocus and built-in flash) and interchangeable lenses. I remember having both normal and wide angle lenses, and probably a telephoto lens (I do not remember a zoom lens for that camera but that doesn't mean the telephoto wasn't a zoom). I shot 20 rolls of film during a 10-day vacation in Alaska in the late 1990's, just before scanned digital images of processed film came down in price.
In the mid-2000's, dealing with film was becoming a hassle and digital cameras were common, so in 2004 I bought a Canon PowerShot A75 for digital snapshots. The camera provided a 3.2 Megapixel image with an image size of 2048 x 1536 pixels. I used that camera almost exclusively until it failed while we were on vacation in 2009. (Interestingly, I later read that Canon had had a defect in the sensor used in the A75 so I returned the camera to Canon and they replaced the sensor at no cost, 5 years out of warranty.)
I replaced the failed and repaired Canon A75 with a Canon EOS Rebel T1i in 2009 since I wanted a camera with interchangeable lenses and a larger image. The T1i has a 15.1-megapixel APS-C sensor with an image size of 4752 x 3168 px. The T1i came with an EF-S 18-55mm f/3.5-5.6 IS zoom lens and I added an EF-S 55-250mm f/4-5.6 IS telephoto zoom lens. I took about 5800 photos with the T1i until I replaced it in 2017; during an 18-day vacation visiting national parks out west in 2015, I took more than 2000 photos.
In 2017 I bought a Canon EOS 77D, which is basically an upgraded version of the Rebel T7i. The EOS 77D has a 24.2-megapixel APS-C sensor with an image size of 6000 x 4000 px and has ISO speeds up to 51,200. I bought an EF-S 17-55mm f/2.8 IS lens instead of the EF-S 18-55mm f/3.5-5.6 IS lens normally provided in the camera kit. I added a EF-S 55-250mm f/4-5.6 IS STM telephoto zoom lens – the sole advantage of this lens is that the front element doesn't rotate as the lens zooms or focuses, so that a circular polarizing filter doesn't have to be constantly readjusted when framing a photo. I have since added a Kenko 1.4x teleconverter to get a longer focal length with my Canon lenses.
Beverly:
Although I have used a number of film and digital point-and-shoot cameras and then smartphones for snapshots, I was never a serious photographer. Even though I love the beauty of nature, I never progressed past snapshots to capture those moments.
After Laurie bought the 77D he was going to sell the T1i but I decided to try using it. I have enjoyed accompanying Laurie on some of his photo outings. It is nice to have a common interest and to get out and enjoy the natural beauty that is all around us.
Though I know very little about cameras, I have a patient husband to help me along the way. With his guidance, I have been able to take some nice photos.
Lenses
Macro Lens and Accessories
On some trips I have rented a telephoto lens and when I had the opportunity to photograph caterpillars in my yard (please see Black Swallowtail Butterfly Caterpillar Diary) I initially rented several macro lenses to try but based on the results I obtained I bought a Sigma 105mm f/2.8 EX DG OS HSM Macro lens in 2019 for close-up photography, which provides 1:1 magnification at it's closest focusing distance, meaning the image on the sensor is the same size as the original subject.
As I explored different macro photography subjects and started using Focus Stacking software (please see the Definition and Apps page,) I purchased a Neewer Macro Focusing Rail to assist with taking close-up images with a very shallow depth of field (with some of these images the depth of field is less than 1/16 inch).
The macro focusing rail allows me to keep the settings on the camera consistent – I don't need to refocus the lens on different parts of the subject, as the the focusing rail does that for me. One turn of the adjusting knob moves the camera forward or backward 4mm or about 5/32 inch. This focusing rail doesn't have a distance scale so I count fractions of turns of the adjusting knob, which has six flats (so turning the knob by one flat moves the focus point slightly less than 1/32″).

As I have pursued more macro photo subject ideas, in 2021 I purchased a set of Kenko extension tubes (12mm, 20mm, and 36mm) which are used to increase the magnification of the macro lens. Using the 105 mm macro lens with the 1.4x teleconverter yields a magnification factor of 1.4:1 and when using the three extension tubes (68mm combined) and the 1.4x teleconverter with the macro lens the magnification factor increases to 3:1. This combination is very front-heavy when the camera is mounted on the tripod at the camera so I have added a Tripod Mounting Collar to the Sigma 105mm Macro lens so that the weight is nearly balanced at the center of the lens/teleconverter/extension tubes grouping. Please see the image of the Manfrotto Ball Head below for the previous mounting.
Telephoto Lens
Late in 2020 I bought a Sigma 70-200mm f/2.8 DG OS HSM telephoto zoom lens followed immediately by a Sigma 1.4x teleconverter when I realized the lens would not work with my existing Kenko teleconverter. The lens mount for the 70-200 mm zoom lens is compatible with the Arca-Swiss Quick Mounting system on my tripod.
All Purpose Lens
In 2023, I purchased a Sigma 24-105mm f/4 DG OS HSM zoom lens, which I use as a general purpose lens in place of the 17-55mm Canon lens.
Equipment and Accessories
Tripod
After using a Promaster 6100 tripod for many years, in 2018 I upgraded to a Vanguard VEO 2 265AB Aluminum Travel Tripod with the VEO 2 BH-50 Ball Head which has an Arca-Swiss compatible quick release (QR) plate clamp. I chose this tripod for its light weight and its compact size which fits in a carry-on camera bag. I have equipped my cameras with matching QR plates and carry an additional QR plate for mounting other accessories. The Neewer Macro Focus Rail is also equipped with Arca-Swiss compatible quick release (QR) plate and clamp
Once I started using the Sigma 105mm macro lens extensively, I realized the ball head on the Vanguard tripod would not lock sufficiently tight to keep the camera and lens weight from drifting down so in 2021 I purchased a Manfrotto MHXPRO-BHQ6 XPRO Ball Head which solved the problem. Although this ball head easily supports the camera and macro lens, teleconverter, and extension tubes, it is not well balanced so I added a tripod mounting collar to the macro lens, shown above,
Low-Level Camera Mount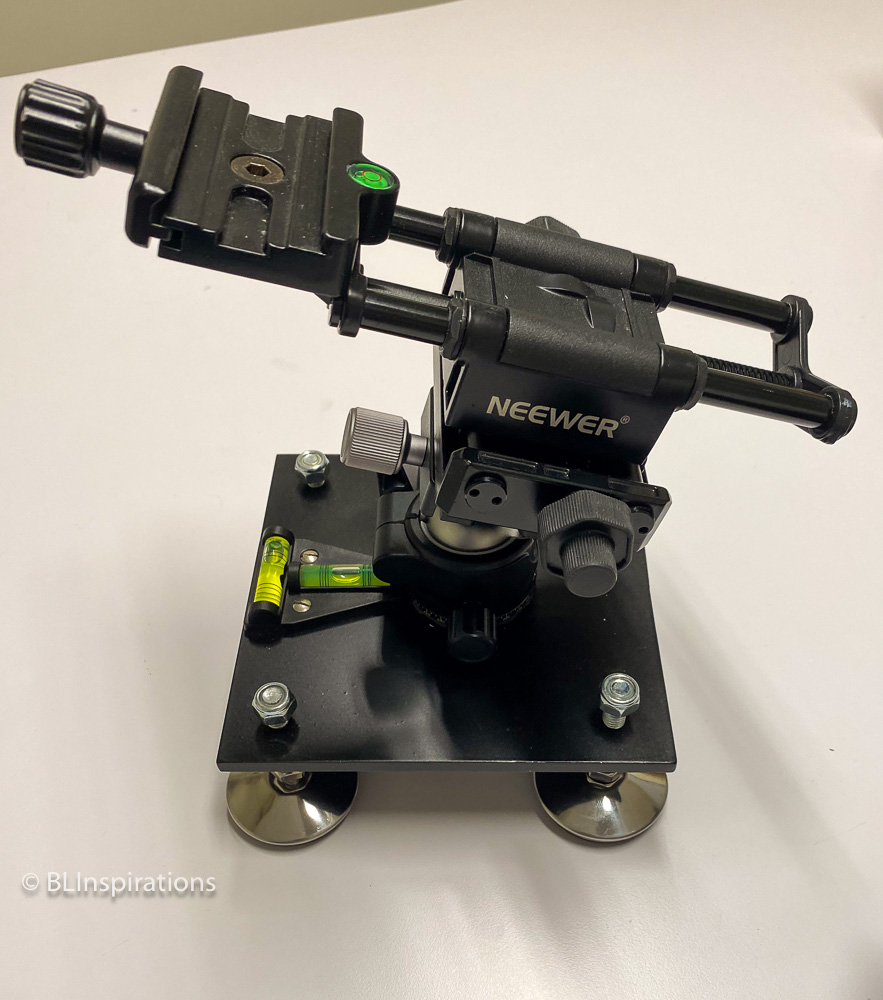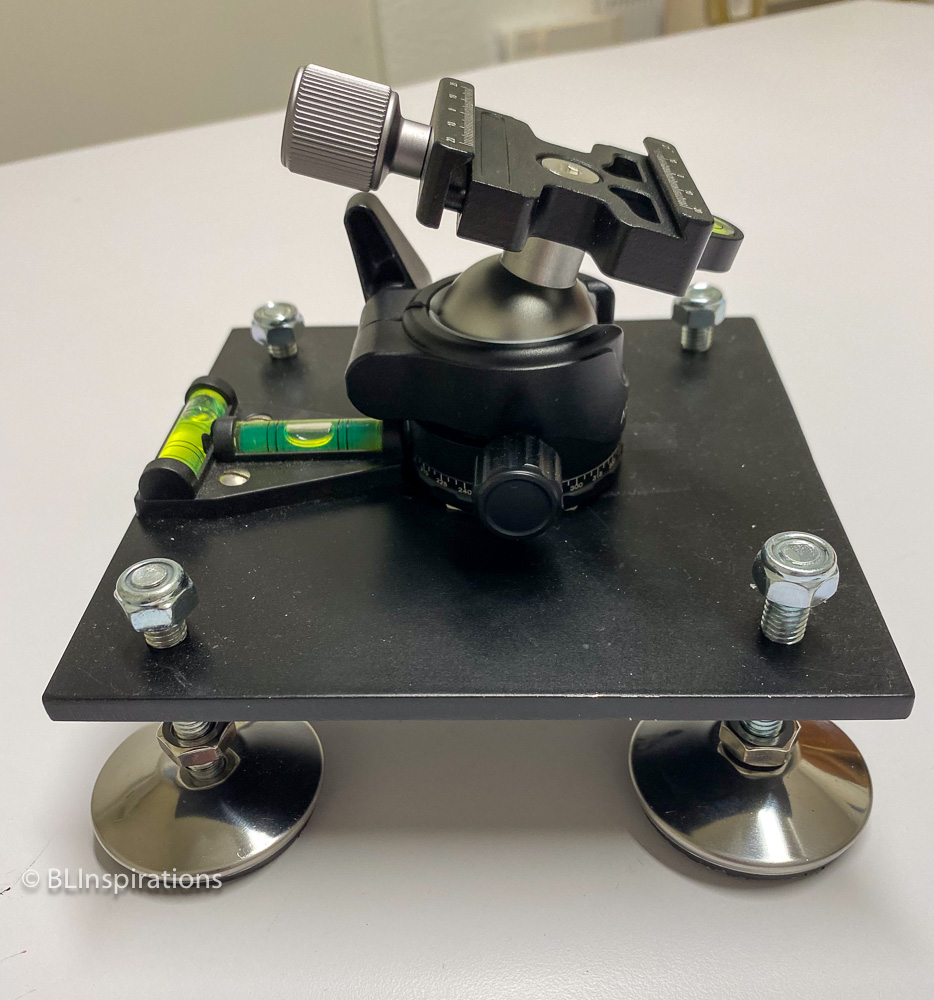 I had seen a photo of a low-level camera mount platform, primarily for photographing objects near the ground, but it didn't appear to be very flexible so I made one to meet my needs. It is basically a piece of aluminum plate with four adjustable feet and a ball head with an Arca-Swiss clamp. I also added a level indicator so I can use the adjustable feet to keep the camera level.
Camera Bags
I primarily use a Think Tank Airport Advantage Trolley Suitcase which holds both cameras, my lenses, filters, and tripod. I also have an AmazonBasics Camera Backpack for use on hikes.
Remote Trigger
For many years I had used a hand-held remote trigger switch even though my Canon EOS 77D offers remote triggering (and more) through Wi Fi with a smart phone app. The problem with that is the Wi Fi connection drains the camera battery rapidly. The hand-held remote switch includes a "lock" position for bulb exposures which is useful but there is no detent to avoid engaging the lock position unnecessarily. When the remote is inadvertently placed in the lock position with normal camera shutter operation, the camera "freezes" so nothing can be done until the switch is manually returned to its normal position.
In 2021 I purchased a Pixel Pro TW-283 Wireless Timer Remote Control which supports single, continuous, bulb, delay, and timer schedule shooting. The remote control consists of two pieces: a receiver which mounts on the camera hot shoe and connects to the camera's remote control jack with a cable and a hand-held transmitter which controls all of the functions. I have found this remote control to be extremely useful and versatile, especially when the camera with a macro or telephoto lens is mounted on a tripod so I can take pictures without physically disturbing the setup, which is especially important for macro photography to avoid any camera movement.
Camera Vest
Before the 2015 western parks vacation, I purchased a Cotton Carrier Camera Vest which allows the user to securely carry a camera with a long lens hands free. Although I initially purchased it for use while horseback riding, it is useful whenever it's inconvenient to carry a camera in your hands. It is particularly useful for carrying my camera with the Sigma f.2.8 70-200 mm zoom telephoto lens, which weighs in at 5 lbs.
Filters
I keep a UV Haze filter mounted on each lens, primarily for scratch protection and to keep the lens surface clean. I have circular polarizing filters for my lenses to reduce glare, a 5-stop neutral density filter for the Canon EF-S 17-55mm f/2.8 lens and a 9-stop neutral density filter for the Sigma 24-105mm f/4 lens to reduce the light admitted for long exposures.