When we purchased our house, the previous owners had a satellite TV dish mounted on a metal pole in the backyard. As we were not going to use satellite TV, we removed the dish and placed a tractor tire around the pipe to use as a flower bed. I mounted a bluebird house on the top of the pipe and added some wood bars to make a trellis for the climbing plants below.
The plant in the photo is a black-eyed susan vine, which later completely enveloped the trellis. The black-eyed susan vine (Thunbergia alata) is a tropical perennial that grows as an annual flowering vine in our region. The featured photo was taken in mid-September 2021.
In the photo below which was taken three weeks later, the black-eyed susan vine completely envelopes the trellis and the flower bed is mostly covered with sweet potato vine (Ipomoea batatas), which is a fast-growing annual. The vines are related to edible sweet potatoes but are only ornamental as they are very bitter. The pole and tractor tire planter are now part of a pollinator garden we are creating and the final image shows it in July 2023 with milkweed and catmint (nepeta) in the tire.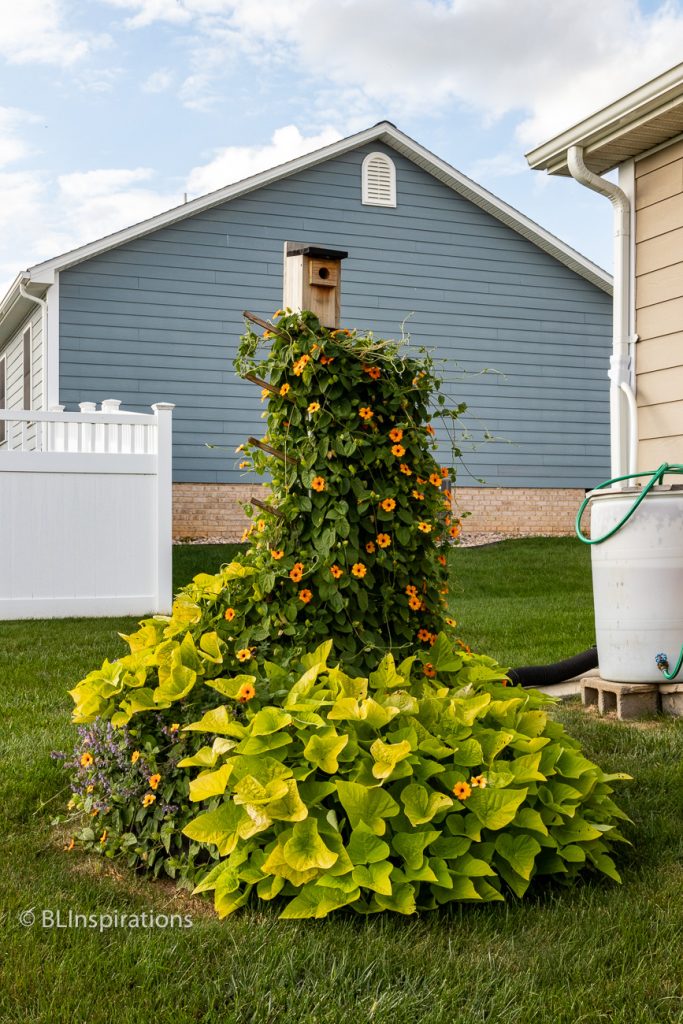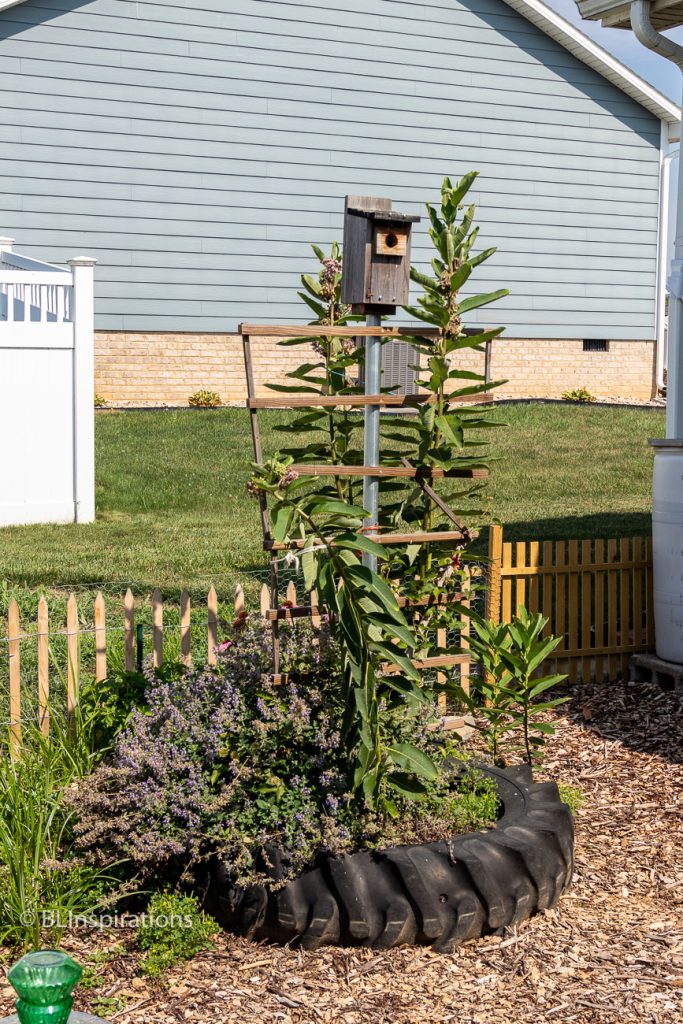 Additional Information
University of Wisconsin-Madison: Black-eyed Susan Vine, Thunbergia alata
Texas Master Gardner: Sweet Potato Vine Lime
N.C. State Extension: Nepeta (Catmint)
Technical Information
Birdhouse and Black-eyed Susan Vine
Date: 9/11/2021
Time: 10:48 AM
Camera: Canon EOS 77D
Lens: Sigma 70-200 mm f/2.8 DG OS HSM
Settings:

Lens: 143 mm, f/4.5
ISO: 100
Shutter: 1/500 sec

Uncropped image is 4000 x 6000 px
Black-eyed Susan and Sweet Potato vines
Date: 10/5/2021
Time: 4:15 PM
Camera: Canon EOS 77D
Lens: Canon EF-S 17-55 mm f/2.8 IS USM
Settings:

Lens: 24 mm, f/11
ISO: 400
Shutter: 1/100 sec

Uncropped image is 4000 x 6000 px
Tractor Tire Planter with Birdhouse and Milkweed
Date: 7/20/2023
Time: 10:34 AM
Camera: Canon EOS 77D
Lens: Sigma 24-105 mm f/4 DG OS HSM
Settings:

Lens: 31 mm, f/5.6
ISO: 100
Shutter: 1/400 sec

Cropped image is 3781 x 5672 px